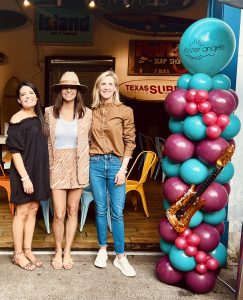 April is Child Abuse Prevention month, which is a really special time for organizations like Foster Angels, so hosting an event makes sense for us.  This year we celebrated our 5th annual Party with a Purpose thanks in large part to our awesome partners at Executive Surf Club – and what a party it was!  This cool, laidback, and family friendly event gives us the opportunity to spread awareness for what we do at Foster Angels and the children we work to assist everyday while having a good time doing it.  
Eric Graham opened the event with his chill, solo acoustic set.  Then Velvet Drive kept the party going until 12 am!  Their popular covers were full of energy and their female vocalist really belted out the tunes – they had everyone dancing.  We featured 17 silent auction items that included an on-site beach tiki hut, a Jon Hart duffle bag, a romantic staycation, a candle making party, and a 3-night stay on the Frio River – among so many others.  Not to mention a 360-photo booth to capture pictures of a good time.    
Thank you to all who supported and joined us in the party.  Stay tuned for next year's date, 2024 is going to be an exciting year!