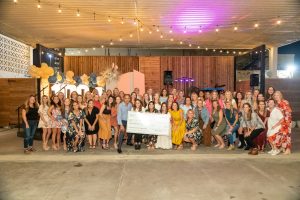 Foster Angels was very honored to be the receipt of the Impact Grant of $12,500 awarded by 100 Women of the Coastal Bend. Their membership consists of 100+ women who have answered a calling to serve our community in a way that has a big impact – the Power of 100. The group of philanthropic women meet quarterly, contribute locally, and connect personally to benefit deserving charities in the Texas Coastal Bend.
Each quarter, they select 3 charities from applications received. Those charities are invited to their quarterly meeting, and each organization is asked to present their mission to the group and how they would use the funds should they be chosen to receive the impact grant. After all presentations, the women will vote on their chosen cause, and the majority vote recipient will be awarded the full grant.
The funds awarded to Foster Angels are immediately being put to use towards our daily request program to be able to provide access to extracurricular activities, camps, team sports and special occasions that will ultimately create a positive shift in these children's lives. We are also going to be able to continue meeting their ongoing basic needs such as food, new clothing and beds to keep sibling groups together. We are very honored to have been chosen as their recipient at the November meeting. Other deserving non-profits who presented were Special Hearts in the Arts and Aransas Pass for Youth who both do great work.
Thank you to this group of women who have kind giving hearts with an enormous charitable spirit. This is helping so many abused and neglected children right here in our community who need our help. You can see the impact of this wonderful group by checking out their website www.100womencoastalbend.org